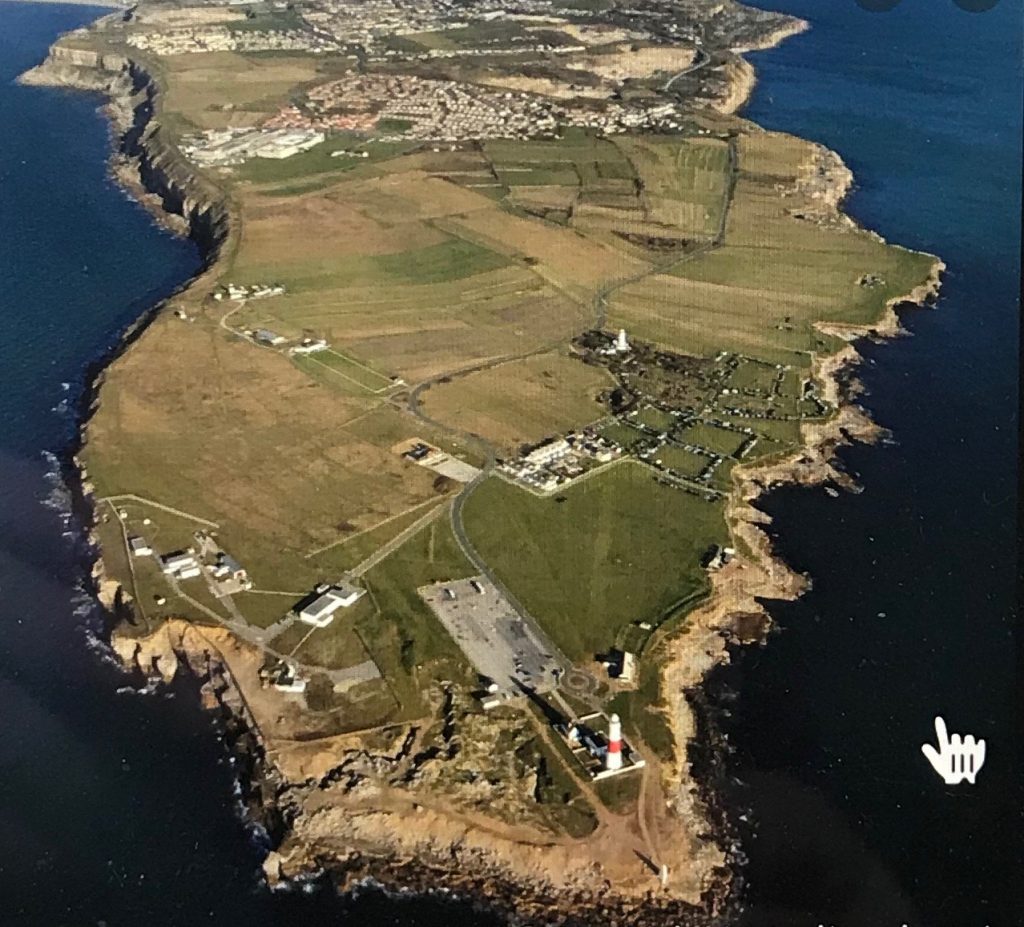 On 12th October 1769, sailing south in the Endeavour, Captain James Cook first viewed an island off the tip of Mahia Peninsula which measured some three kilometres in length.  He named it Portland Island "on account of its very great resemblance to Portland in the English Channel".
What Cook didn't know was the island already had a name – Waikawa (meaning 'Sour Water') or that the island had been settled for over 600 years. Moreover, the great waka Tākitimu had landed there and it was the home to an important centre of learning, a whare wānanga, called Ngāheru-mai-tawhiti.  The island had an active settlement and traded in fish and shellfish when it became the site of one of the first whaling stations in New Zealand, a lighthouse station, a sheep farm and even today, a conservation refuge for the endangered shore plovers. 
Portland in Dorset, by contrast, is an 'almost island', a huge block of limestone joined to the mainland by a long shingle spit called Chesil beach. It was famed for the source of Portland Stone, used by Sir Christopher Wrenn to build St Paul's Cathedral and was mentioned by various writers including Thomas Hardy and in fictional and factual accounts of smuggling (Moonfleet being the best known of the novels).  Apart from the comparisons in shape (although they are similar, Portland Bill is significantly larger, being six kilometres long and two to three kilometres wide), both are largely outliers, places of isolation and confinement that by their very remoteness have been described as stark and and barren, and, over their history, vaguely threatening, especially to shipping.
Today Portland Island is unpopulated although at one stage it had several houses and even boasted a school for the fourteen children of the families who worked there. Many family trees, Maori and Pakeha can trace links with Portland island and one example being that of the assistant keeper, Nicholas Sciascia who, in 1898, was gored to death by a bull, yet can lay claim over two thousand descendants from his eleven children).   Portland Isle, by contrast has a population of more than twelve and a half thousand and remains a busy and active community with its quarries and harbour. In many ways, the two places linked only tenuously by Captain Cook, have very little in common. And yet . . . . 
Both Portland Island and Portland Bill have been the scenes of numerous shipwrecks. While the history of lighthouses on Portland Bill dates from 1716 when the two early lighthouses were erected, the lighthouse on Portland Island wasn't built in 1875
The original lighthouses on Portland Bill, first built in 1716 and rebuilt in 1869.
After it shut down (and eventually moved to Wairoa in 1960 where it has pride of place beside the bridge), its place is now taken by a rather automated lighting system built in 1984 and housed in an ordinary white square metal lattice tower (and now called a light rather than a lighthouse). Yet despite the lighthouses, shipwrecks continued to bedevil both coastlines.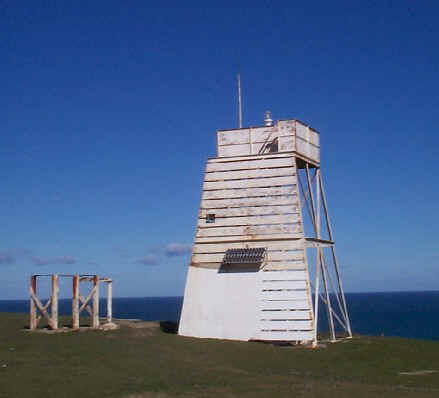 The current light on Portland Island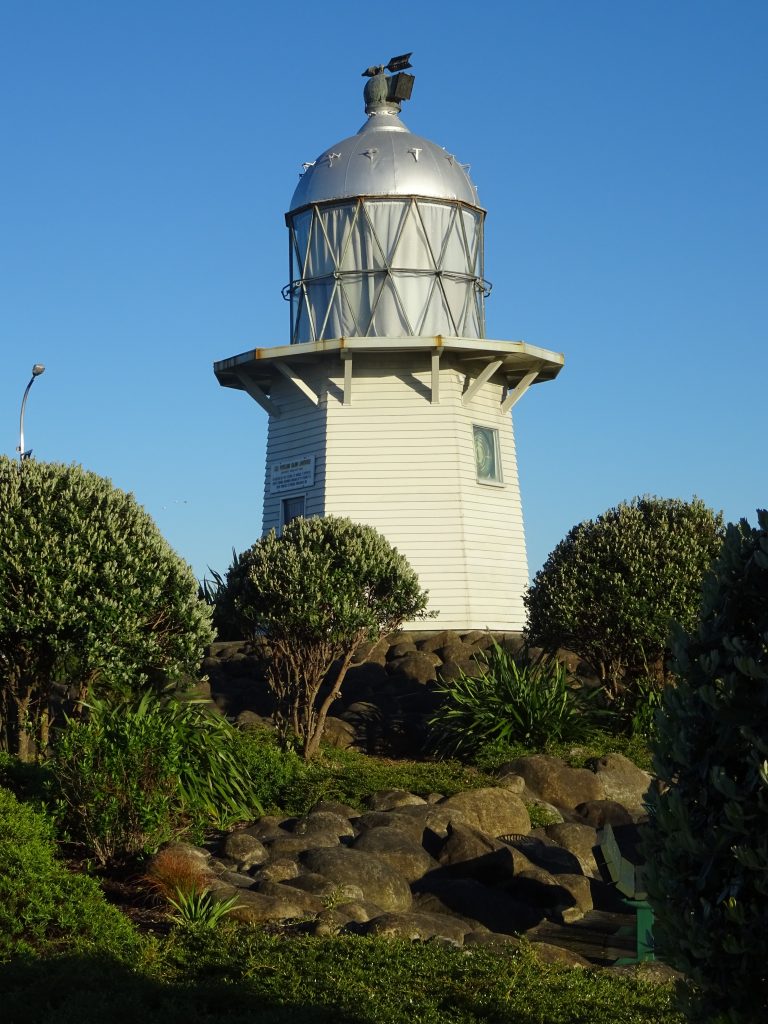 The current lighthouse on Portland Bill, built in 1906 and the historic Portland Island lighthouse, now a distinctive feature of Wairoa's riverfront.
There was one shipwreck whose story is particularly poignant. In September 1877, the sailing ship 'Avalanche' set sail to New Zealand where, in heavy seas off the Bill of Portland, it collided with another ship, 'Forest' with disastrous consequences.
All sixty three passengers on board were drowned, but what made the disaster poignant for New Zealanders also was that most of the passengers were New Zealand colonists returning to their families along with some new emigrants travelling to settle out there. Wanganui suffered worst with twenty two from the town losing their lives – a huge blow to the settlement whose population at the time wouldn't have numbered more than a few thousand. A memorial still stands outside St Paul's Church in Wanganui to those who lost their lives while on Portland Bill, a new Church, the St Andrew's Avalanche Memorial Church was built to commemorate the dead.  The Mayor of Wanganui William Watt (who has his own memorial in the centre of the city) donated a memorial window to the Portland Bill church and also bequeathed the land for an orphanage in memory of his daughter who was one of those lost in the disaster. For those who live in Wanganui, the Margaret Watt Children's Home, first opened in 1931 is still remembered as an important charity in the town. It ho continued operating until its closure some twenty years ago (although the Margaret Watt Children's Trust still continues).
So what does all this mean? Here I shift from being a historian to being a participant. Portland island has always been a part of my landscape from when I first saw it, probably aged five. Although I have never a put foot on it, the island is inextricably linked to Mahia where I spent so many summers in my youth and its presence, as a disconnected part of a familiar world, remains fused in my memory.
Since I moved to England more than two decades ago, with Portland Bill no more than an hour away, the nameplace has served as an evocative reminder of that time and place 'back home.' Different in almost every regard, apart from the bleakness that comes with isolation, it is joined by the glue of that one tragic shipwreck to the people of Wanganui, where I spent eight years of my life. It is strange how when we look, we can find connections for places and events and that memory find the parts that draw the story together.
I think of Portland Island now, windswept, under the flightpath of rocketlab, whose rockets are launched into space off the tip of Mahia, and the coursing and unreasonable sea as winter settles in for another stay. And of Portland Bill, where I went only last week, viewing the old fortifications,  the setting of Thomas Hardy's novel, 'The Well-Beloved' and visiting St Andrews Avalanche Memorial Church and thinking of shipwrecks, of early explorers, and of the different histories of place, Maori and Pakeha, and feeling every one of the twelve thousand miles that links my two homes.
Mahia Beach (top) and the anchor of the Avalanche outside ST Andrew's memorial Church, Portland Bill (above)
For more on Portland Island go to https://www.visitwairoa.co.nz or https://www.rnz.co.nz/national/programmes/countrylife/audio/2018682685/portland-island-a-long-history-of-occupation